I'm excited to do my

first Blog Swap

with
She's full of great

innovative ideas

! Especially the things she creates for her toddler! Here she just shares just a fraction of her

many talents

.
Take a minute and

check out her blog!
Hi all you fabulous Decor-ganize Crafts readers. I'm so excited and honored to be with you today as I swap blogs with Heather. I absolutely love Decor-ganize Crafts and all the crafty ideas Heather shares.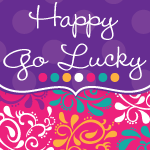 I'm Kara from Happy Go Lucky and I started my blog a few months ago because I love being creative and crafty. I'm a Middle School Reading Teacher and I have a 2 1/2 year old son who keeps me active and very entertained. My wonderful husband is in the Navy but lucky for us hasn't had to go overseas in a few years.
My favorite projects are always easy and inexpensive!!
I also host a Weekly Mingle with Us Blog Hop every Thursday so come by and link up. We always follow back.
My true passion is creating fun, entertaining, and educational activities that I can do with my son and I love sharing free printables:) So come over and take a look around. Summer vacation will be here soon so I will be sharing even more fun crafts.
Thanks again Heather for having me. I love Decor-organize Crafts!!